Yes, you know it and I know it, it's fun to get mail.  Now I'm not talking about email or text messages, Facebook messages or Tweets.  I'm talking bout mail that a human actually brings to your house.
I was really excited to get such a beautiful Christmas card from my pals Caren and Cody from Cat Chat!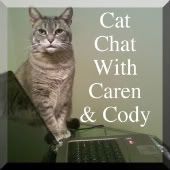 Sometimes we just "assume" that everyone knows the other bloggers that we know, but that always isn't the case.  So whether you're a new blogger or a seasoned blogger, if you don't know
Caren and Cody at Cat Chat
, they simply are a must read. Caren loves, loves, loves all critters and is always there to lend a hand and Cody is there to lend a paw.
Thanks Caren and Cody, I just love the card and it looks like me on the front of it!  Remember, adopt cats, we deserve it!!!!!  Purrrrr! Zip! Later!
Affiliate Disclosure: Sometimes I use affiliate links. What does that mean? It means that if I've used a product and liked it, or it's a company I buy from and trust and they have affiliate programs, I sign up. Then, when I mention that product or company in one of my blog posts, I use my affiliate link. Should you end up buying something as a result of one of those links, I might get a little sumpin' for my treat fund.