Hello everyone and welcome to Corbin's Blogville Pitty Post Day. If you don't know my pal Corbin, please stop by and visit him, he is one cool dude. Today is also Corbin's Birthday. Happy Birthday pal! Here's a picture of me and my pal Corbin…
Corbin is trying to help Pit Bulls everyone overcome the stereotype and bad rap that Pit Bulls seem to get.
We felines should be able to relate to that, after all, look at the bad rap that black cats get for no good reason.  Pit Bulls are the same way, one bad apple every once in a while messes up the whole apple cart for everyone else.  Seriously now!  What if they did that with humans, there wouldn't be many humans left to take care of us now would there?  Please take some time to educate yourself about this and all wonderful breeds.  And please join us all as we try to stamp out breed discrimination at all levels.
Now then, let me introduce you to a sweet girl in search of her forever home: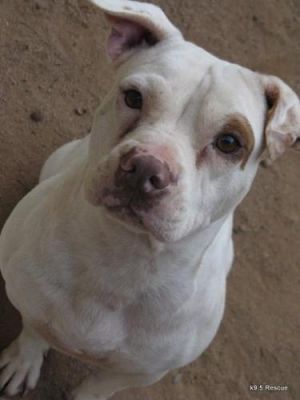 Here is what Beautiful Babe's Petfinder page has to say about her:
Babe is a remarkable girl! This happy, affectionate, well behaved girl that is truly impossible not to love. Babe has one of the best dispositions ever!
Babe has one of the kindest hearts we've ever met. She adores everyone, including dogs, cats and humans alike. She is a very gentle girl and will softly lay her paw on your arm to let you know she loves you. She is a snuggler and gives you very soft kisses to tell you that you're wonderful in her eyes. Babe always wants to make sure that you know you're loved, whether your a human, dog or cat. She thinks everyone needs to feel assured that they're special.
Beautiful Babe is waiting at: k9.5 Rescue, in Greenville, SC.
Today is also Hug Your Cat Day…you know what to do!
Remember, adopt Pit Bulls, they deserve it!!!!! More Forever Homes More Often! Purrrrr! Zip! Later!
Non-Affiliate Disclosure: We do not use affiliate advertising nor do we do product reviews for any form of compensation. If you see a product or service mentioned in any post, we purchased such good or service at our own expense and opted to tell you about it. No compensation was exchanged and the FTC can kiss my furry butt.