Today I'd like to introduce you to Buffy the cat.  Buffy is one laid back dude and has the most purrfect green eyes.  Buffy also has one big purr which he would love nothing more than to share with you.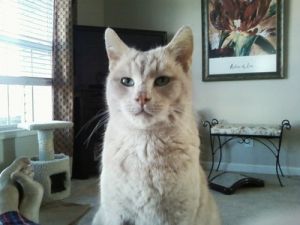 Here is what he has to say on his Petfinder page:
Buffy is a loving and laid back cat.  My foster mom said that I am such a great cat that someone will love to have me as a pet.  I am approximately 6 to 7 years old and have been neutered and have all my shots.  I have green eyes and the loudest purr you have ever heard (I love to purr). I love to sit with you and want to be wherever you are, I will follow you!!!  My foster mom has named be "Buffy" but you can rename me if you like.
WON'T YOU GIVE ME A HOME AND I PROMISE I WILL LOVE YOU FOREVER!!!  Call 864-934-3505.
See his Petfinder page: HERE
Affiliate Disclosure: Sometimes I use affiliate links. What does that mean? It means that if I've used a product and liked it, or it's a company I buy from and trust and they have affiliate programs, I sign up. Then, when I mention that product or company in one of my blog posts, I use my affiliate link. Should you end up buying something as a result of one of those links, I might get a little sumpin' for my treat fund.