Today I'd like to introduce you to Buffy the cat.  Buffy is one laid back dude and has the most purrfect green eyes.  Buffy also has one big purr which he would love nothing more than to share with you.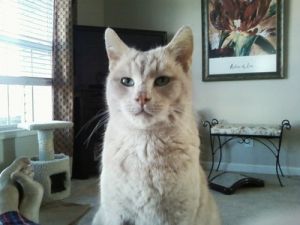 Here is what he has to say on his Petfinder page:
Buffy is a loving and laid back cat.  My foster mom said that I am such a great cat that someone will love to have me as a pet.  I am approximately 6 to 7 years old and have been neutered and have all my shots.  I have green eyes and the loudest purr you have ever heard (I love to purr). I love to sit with you and want to be wherever you are, I will follow you!!!  My foster mom has named be "Buffy" but you can rename me if you like.
WON'T YOU GIVE ME A HOME AND I PROMISE I WILL LOVE YOU FOREVER!!!  Call 864-934-3505.
See his Petfinder page: HERE
Non-Affiliate Disclosure: We do not use affiliate advertising nor do we do product reviews for any form of compensation. If you see a product or service mentioned in any post, we purchased such good or service at our own expense and opted to tell you about it. No compensation was exchanged and the FTC can kiss my furry butt.