Hello everyone.  You can probably tell by the look on my face that I'm not feeling well.  I have a UTI and got hauled off to the Vet place on Saturday.  I wish I had a treat for every trip to the litter box.  I got a shot and some meds so I should be feeling better soon.  But if you've got some spare purrs to pass my way I sure would appreciate it.
I did want to mention a couple of other things today. Ann Staub from Pawsitively Pets and my Dad recently did a guest post at the Healthy Paws blog. It's about traveling with your pets, so check it out.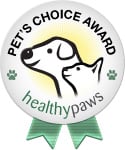 Then we got The Opposites Attract Award from another sweet friend.
I want to thank the sweet and wonderful Swami Zoe for sharing her award with us. Thank you sweet girl, we appreciate you too.
That's it for me today, I'm going to go try and get some rest.  Remember, adopt cats, we deserve it!!!!!  More Forever Homes More Often!  Purrrrr! Zip! Later!
Non-Affiliate Disclosure: We do not use affiliate advertising nor do we do product reviews for any form of compensation. If you see a product or service mentioned in any post, we purchased such good or service at our own expense and opted to tell you about it. No compensation was exchanged and the FTC can kiss my furry butt.